NZB Completion Checker Update
I finally had some time to update NZB Completion Checker (NZBcc). This new update includes some bug fixes and som new features. The bugfixes were all low-priority fixes, but they still needed fixing.
And then a new major feature was added, a first for all the NZB checkers/validators out there.

Remember to support NZB Completion Checker – Sign up to Astraweb via this banner 🙂

First a screenshot of the new Visual Progress Indicator.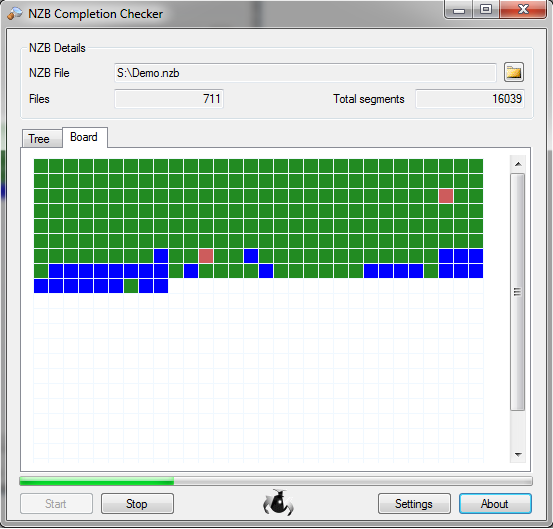 Here you can watch the progress of files checked. The blue squares indicate a file is being processed. The green squares indicates a file has been checked to 100%. A red square (oh my..!), means a files has failed the check. To see what file it is, you have to return to the Tree tab page, and find the file in the tree somewhere (look for the red dot!).
Now the new feature I was talking about, adds the possibility to split the NZB file into two new files (the original file will be left intact). One files with all the usual files, and another containing all the PAR2 files. Now what the point in that you ask?
Well, if you check an NZB file, and the file is 100% complete, why would you want to download the PAR2 files? Thats just a waste of bandwidth, and waste of the bytes on your usenet account.
Lets say you run a check on a file, and it checks out 100%. You decide to download the files a few days later. To you surprise, the file is no longer complete!!! No worries, you can just use the other NZB file (the one with the PAR2 files), and download the PAR2 files and your good to go 🙂
As it is now, the NZB file is split no matter what (you check that option in the settings). In the future, I might change that functionality , so the splitting will only occur if the entire file is complete. Any comments on that?
Anyways, here is the link to the new NZB Completion Checker version 0.7 BETA. Enjoy, and PLEASE report any bugs you find!