NZBcc version 0.8.2a released!
Yes, it's true! A new version of NZB Completion Checker has been released 🙂 Howver, this is just an alpha release, so there might be bugs – and most likely are!
This new version brings some new features, which should please most people!

Batch processing
It's not possible to add multiple files at once, including directories/folders. When you have added the files you want to check, just click the start button and go for a cup of – something 🙂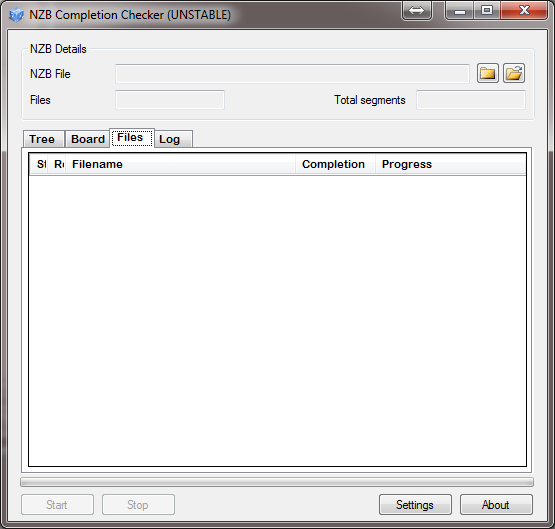 Notice the two file selector buttons and the batch tab. The first buttons allows you to select files, and the other button folders. The Batch-tabpage shows all the files to be processed, and their currenct status. When a file has been processed, just click it, and the completion report will popup!
All of the current features of NZBcc, such as SSL, NZB splitting and so on, also works during batch processing.
For those people have problems connecting to their Usenet servers, a log-tab has been added. If there is a connection error, it will be printed here. During the alpha release, other debugging messages might be printed there too!
Check method


A new kind of file validation has been added. Its a tiny bit slower, but should work on all servers, producing a 100% correct result. It turned out, that the previous validation method could fail on some servers, making them report the file as present when in fact it was missing! This is not a bug in NZBcc, but in some Usenet server software. The new method has been selected as default for new users. Old users should switch to the new method!
Bugs
A few bugs was fixed, and an entirely new batch was introduced I guess 🙂 As always, please report them if you find any!
Download
Version 0.8.2 Alpha can be downloaded from here.
Update #1
2 minor bugfixes. NZBcc now works with just 1 file again 🙂 and the completion report has also been fixed! The download link has been updated. Please, redownload 🙂
Update #2
Fixed a bug in the batchdownload(files) tab. Thanks to Dan for reporting it 🙂 New version has been uploaded. Please redownload 🙂
Update #3
Fixed the broken download link 🙁 For all of you who tried to download the file … PLEASE try again! My bad…