Did you ever spend a few hours downloading a file from usenet using an NZB file, just to find out, it was far from complete? Tired of spending your time and bandwidth?
However, the solution to that problem is simple! Read on for more…

UPDATE Please go to this tag for the lastest version of NZBcc, or use the download box on you right, to download the lastest version of NZBcc, thanks!
In order to avoid downloading incomplete files, I made the NZB Completion Checker (NZBcc) program. In a matter of minutes it can check all files in the NZB file, if they exists or not!
Let me show you a screenshot: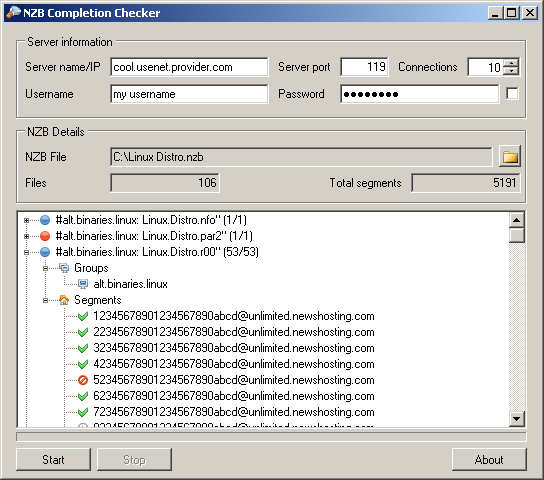 Yes I know… pretty darn impressive 🙂 Anyways, here is a quick breakdown of whats going on in the screenshot. The top box (Server name/IP) should be pretty clear to anyone who has ever used usenet. Connections is the max number of connections your account supports. If it support 20 connections, you can use 10 connections for NZBcc, and the other 10 for downloading. It's totally up to you. Test have shown, that using 20 connections instead of 10 connection, is 2 x faster. It's faster alright, but not 100% faster. Just keep it in mind.
Below the "NZB Details" box, is the content of the NZB file rendered as a tree structure. If you unfold a node, you can see the download progress of the article, the newsgroups that are searched and the article ID. The icon next to the article id indicates if the check is pending (clock), if the article exists (green checkmark), or if the article is not present on the server (red mark=bad). The tree is updated realtime!
Below the tree is a narrow progressbar. The progressbar is updated everytime a file has been completely checked
When you shutdown the program the settings are saved. Your password is stored in plain text, so if you want to keep it secure, remove it from the GUI before exiting. The checkbox next to the password, shows the password in cleantext – so you can check your typing.
[ad name="Google Adsense-1″]
When the check is completed, you will be presented with the following screen: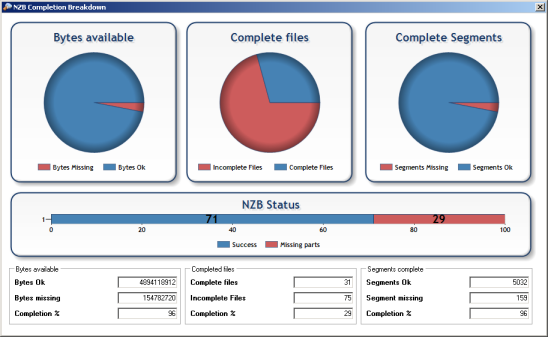 (click for larger version)
This is a breakdown of the entire check process. From this screen you can evaluate, if the file should be downloaded or not, depending on how complete it is. PAR/2 files are not taken into account!
Downloading
You can download this piece of software for free, and use it for free – no strings attached! However, direct linking to the download is prohibited. Link to this page instead.
There is not much more to it than that. It should be quite easy to use the program. If not, drop a comment 🙂
Requirements
In order to move people up the technology ladder, I have written this program in .NET 4.0. That means this software requires .NET 4.0 before it can be executed. .NET 4.0 can be downloaded from here. Again, this is a free download provided by Microsoft.
Other than that, the only thing you need is an internet connection and some NZB files to check 🙂
Updates
The following features are scheduled for the next version:
Windows shell integration – double click a file, and the software will check it
Windows shell integration – right click a folder, and batch check all *.nzb files in that folder
Whatever you are missing 🙂
Bug fixing
Please report any bugs to this post, thank you!
[ad name="Google Adsense-1″]
My desktop computer has suffered a motherboard failure, and I'm trying to get the cash together to buy a new one. If you could help me out with a few bugs, you will not only be supporting NZBcc but also helping me out! I hate developing on my crappy laptop…
Use this link to support us – you can try out the service WITHOUT a credit card for 7 days 🙂 You just need a email! Try Unblock-us.com 🙂
Download link
Get the file here. Just remember, that this is beta software. Bugs will most likely be present!
New version coming soon…
A new version is being tested as I write this. The new version will contain a new great feature. If NZBcc clears a NZB file (meaning-> no errors found), it can generate a new NZB file without the .PAR2 files, saving you some bytes when you queue up the NZB file for download. This could be anywhere from %5-%15 saved! You just have to remember, to download the file shortly after new new NZB file has be generated. It case you are not quick enough, and you have missing parts, don't worry! NZBcc also saves the .PAR2 files in a new NZB file, so you can download them if you REALLY need them 🙂